I had no idea when I woke up that day, December 28, 2015, in Scottsbluff, Nebraska, that my life would never be the same. It was –13 degrees Fahrenheit that morning—so cold, you could barely feel your face after about 30 seconds outside.
I was working on a USDOT grant for a rural mobility solution, and we were doing the first beta test for the app we were working on. We were collaborating with the local transit agency, and they had several passengers who signed up to test the app.
The public transit agency provided its last rides around 5pm, and our first trip was to take a husband and wife on a date for a night on the town: dinner at Domino's Pizza and a movie at the local theater.
My car pulled up at around 7pm, and I walked to the front door. I barely got my first knock in before Henry* greeted me with the biggest grin on his face, and their adorable beagle puppy, Skipper, had to come say hello as well.
Henry said, "Give me just a few seconds, I'll get Cindy* and let her know you're here. She's just finishing getting ready." I was more than obliged to spend a few extra minutes snuggling that adorable puppy. Not 30 seconds later, Cindy and Henry were ready to go!
I asked them if I could get a photo for the project, since this was our first official ride, and they were happy to oblige. And of course, Skipper had to join! Photo taken, we were off on our journey.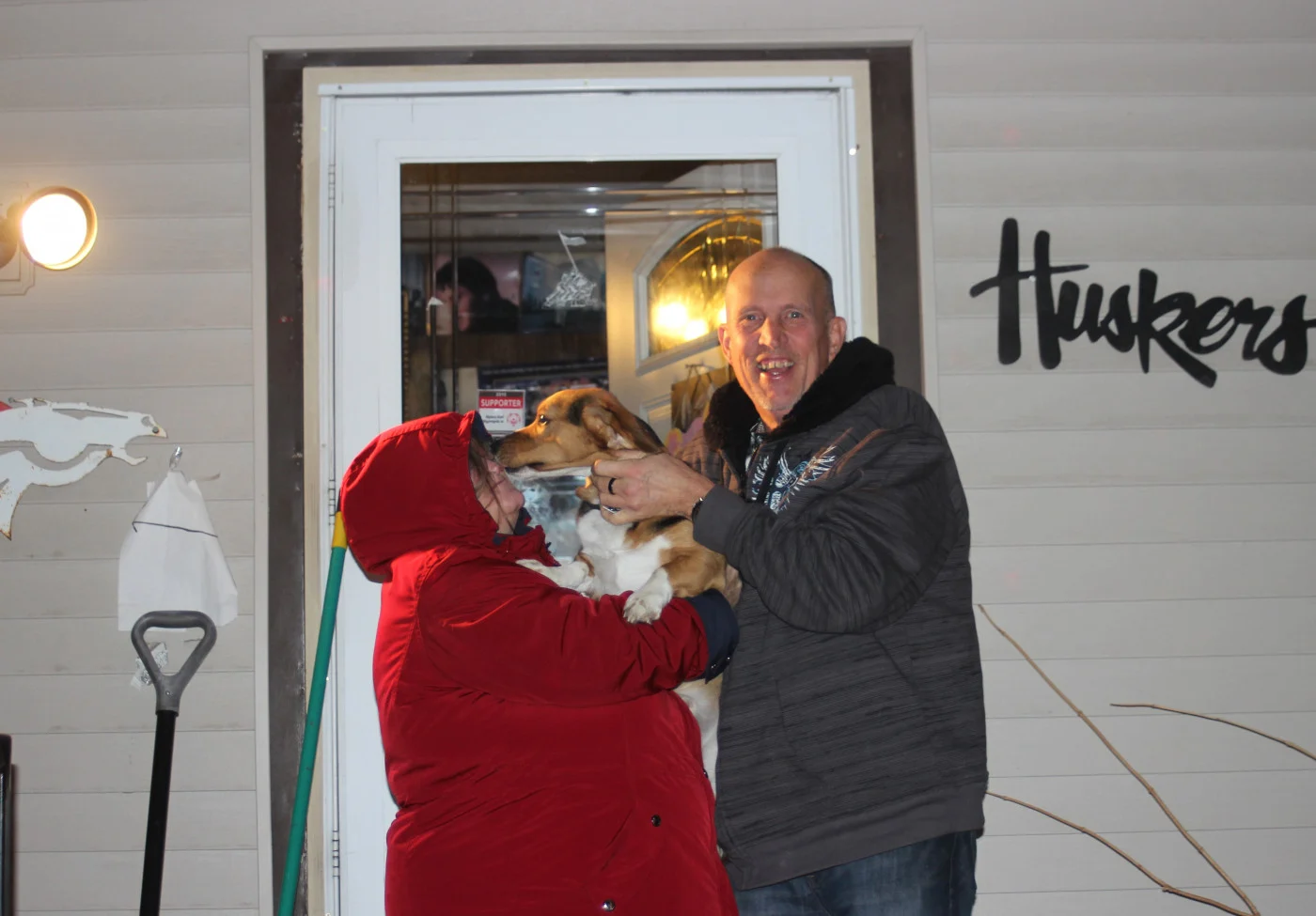 I opened the car door, and Cindy and Henry hopped in. They were so excited. You would have thought I had pulled up in a black stretch limo and not a family sedan with 140,000 miles on it.
They remarked at how excited they were and gave each other a quick kiss as they put on their seatbelts. We began talking during that short ride, and Cindy shared with me that this was the first date night they had been on in over seven years. Since the public transit didn't operate after 5pm, these luxuries like "date night" were just not an option, nor was visiting church on Wednesday nights to go blanket sewing. So many things that only happened after hours were not accessible.
She shared about job opportunities, activities with family and friends, and volunteer experiences that were missed or out of reach because there were no rides available on evenings and weekends.
About eight years ago, Cindy started having seizures, and with her health, she was no longer able to drive safely. Her husband, Henry, had macular degeneration that prevented him from driving as well. So, their only options were the local public transit, friends, and family. There was no taxi service in town either. And well, as Henry so eloquently put it, "Asking your friend or your brother (who lives over 60 miles away) to take you and your wife on a date is really awkward."
Both Henry and Cindy worked part-time jobs that fit within the transit schedule, but had opportunities for promotions that they were forced to pass up because they couldn't work nights or weekends or take longer shifts. Where they could afford housing was too far from where they could walk to jobs, and with the Nebraska winter weather and summer heat, anything more than 1–2 miles would be out of the question.
About five minutes later, I pulled up to the Domino's, and Cindy and Henry got outside. They were so excited. I asked them to fill out a short survey about their experience with the app before they went into the restaurant. As Cindy handed me her clipboard, she said to me, "You have no idea how many people are counting on you; this service will change lives."
Check out below the latest issue of the Feonix Insider, highlighting our public transit partner SMART and technology partner SkedGo.
And that was it. That was the day I knew this project was about more than a final report; this "project" would change my life, but most importantly, it would lead to changing thousands more.
I can still remember sitting in my car, the blue and red glow of the Domino's lights in the night sky, as I looked up to the heavens and prayed, those words set in and washed over my soul.
Fast forward several years, and a lot of gray hairs and sleepless nights later… I founded Feonix – Mobility Rising, and together with our incredible Board of Directors and 160+ community partners, our fearless, hardworking, passionate team is breaking down transportation barriers for those unable to access employment, healthcare, and social activities every day.
Cindy and Henry represent millions of Americans who lack access to mobility options that would enable them to improve their quality of life and their communities. Their desire to work longer hours, buy a nicer house, and volunteer in their community is limited by their access to transportation. And while Cindy and Henry are lucky enough to have at least public transit as an option, many have no options.
In fact, the American Public Transportation Association estimates that approximately 45% of residents do not have access to public transportation. This applies to urban and rural communities alike. Increasing access to public transportation would certainly help solve some of the challenges, but the impact from a collective ecosystem approach is critical. Not one mode or entity can provide every ride, but there are always ways to ensure every ride happens.
Transportation is expensive, but the returns are undeniable. Research indicates for every $1 invested in public transportation, it generates $5 more in economic returns. Increased access to jobs, preventative healthcare, and social activities leads to significant gains for communities.
As a society there is so much work still to be done. We need to work together to create mobility ecosystems and expand funding options to help support these new services – so every person can thrive.
* Names have been changed to protect privacy.
(feature photo of the road outside Scottsbluff National Monument)
Check out below the latest issue of the Feonix Insider, highlighting our public transit partner SMART and technology partner SkedGo.